ATOPIC DERMATITIS - DERMATITE ATOPIQUE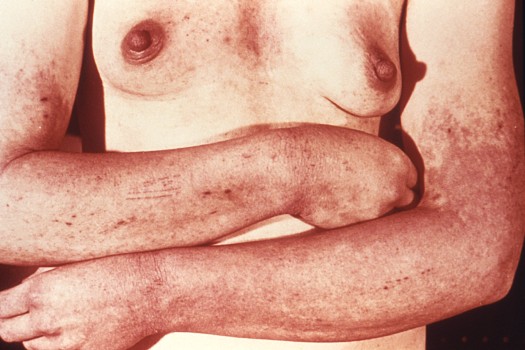 Courtesy CDC (1975)
.en. This patient presented with a chronic skin rash that was determined to be eczema, more correctly termed atopic dermatitis.
Eczema patients are at special risk for developing extensive vaccinial lesions after being inoculated with smallpox vaccine, either through direct contact of the virus onto diseased skin, or via systemic viremic spread.
.fr. Cette patiente présentait une éruption cutanée chronique qui a été diagnostiquée comme étant un eczéma, plus correctement nommé dermatite atopique.
Les patients eczémateux sont particulièrement exposés à des risques de développement de lésions vaccinales étendues après avoir été inoculés avec un vaccin antivariolique, soit par contact direct du virus sur la peau malade, ou par propagation systémique virémique.