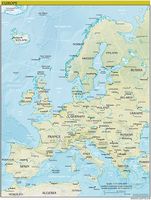 EUROPE (PDF 1.15 Mo, courtesy CIA)
ACTS Advanced Communications Technologies and Services
AEE Agence Européenne pour l'Environnement
AELE Association Européenne de Libre Échange (Idem EFTA)
ALA Asian and Latin America countries
AMP Accord sur les Marchés Publics (cadre OMC)
AUE Acte Unique Européen
AWISE Association for Women in Science and Engineering (GB, London)
BEI Banque Européenne d'Investissement
BENELUX Belgium, Netherlands, Luxembourg (economic union)
BERD Banque Européenne pour la Reconstruction et le Développement
BIC Business and Innovation Centre (same as CEI)
CAEM Conseil d'Assistance Économique Mutuelle
CAG Conseil des Affaires Générales (conseil de ministres)
CC Cour des Comptes des Communautés Européennes
CCA Cadre Communautaire d'Appui
CCAM Commission Consultative des Achats et Marchés
CCAMLR Commission for the Conservation of Antarctic Marine Living Resources
CCE Commission des Communautés Européennes
CCMI Comité Consultatif sue le Marché Intérieur
CCR Centre Commun de Recherche
CCPC Consultative Committee on Purchases and Contracts (same as CCAM)
CCT Comité de Coordination des Télécommunications (FR)
CDI Centre for the Development of Industry
CDMG Comité européen sur les migrations (Anciennement dénommé Comité directeur pour les migrations intra-européennes)
CdR Comité des Régions
CE Communauté Européenne
CE Council of Europe - See COE
CEA Commission Économique pour l'Afrique (Addis-Abeba, Ethiopie)
CEC Central and Eastern European Countries
CEC Commission of the European Communities (same as CCE)
CECA Communauté Européenne du Charbon et de l'Acier
CECs Central European Countries / Pays d'Europe Centrale
CED Communauté Européenne de Défense
CEDH Commission Européenne des Droits de l'Homme
CEE Commission Économique Européenne
CEE Communauté Économique Européenne / Comunità Economica Europea ( fondée par le traité de 1957 - Idem EEC, maintenant UE)
CEEA Communauté Européenne de l'Énergie Atomique
CEEP Centre Européen de l'Entreprise Publique (entreprises à participation publique)
CEF Comité Économique et Financier
CEFIC Conseil Européen des Fédérations de l'Industrie Chimique
CEI Centre d'Entreprise et d'Innovation
CEPT Conférence Européenne des Postes et Télécommunications
CFSP Common Foreign and Security Policy
CIDST Comité de l'Information et de la Documentation Scientifique et Technique
CIG Conférence InterGouvernementale
CIME Comité Intergouvernemental pour les Migrations Européennes
CJCE Cour de Justice des Communautés Européennes
CMO Common Market Organization
CNCD Commission Nationale Consultative des Droits de l'homme (FR)
COE Council Of Europe / Conseil de l'Europe
COPO Comité Politique
COPS Comité Politique et de Sécurité (Comité de Politique étrangère et de Sécurité commune)
COR Committee of the Regions (EU consultation body)
CORDIS Community Research and Development Information Service CORDIS FR
Coreper Comité des représentants permanents
COSAC Conférence des Organismes Spécialisés dans les Affaires Communautaires
COST Coopération européenne dans le domaine de la recherche Scientifique et Technique
CPE Coopération Politique Européenne
CPMC Commission des Pays du Marché Commun
CREST Comité de la Recherche Scientifique et Technique / Science and Technique Research Committee
CRI Centre - Relais - Innovation
CSA Competitive Support Action
CSTID Committee for Scientific and Technical Information and Documentation (same as CIDST)
CT Communication Technologies (same as TC)
DG Directorate General / Direction Générale
DG I Directorate General for External / Relations Direction Générale des relations extérieures (PHARE Programme)
DG II Direction Générale des Affaires Monétaires
DG IV Directorate General for competition / Direction Générale de la concurrence
DG VII Directorate General for transports / Direction Générales des transports
DG VIII Directorate General for development
DG X Directorate General for information
DG XI Directorate General for environment / Direction Générale de l'environnement
DG XIII Directorate General for telecommunications / Direction Générale des télécommunications
DG XIV Directorate General for fishing / Direction Générale de la pêche
DG XV Directorate General for internal market
DG XVII Directorate General for energy / Direction Générale de l'énergie
DG XXII Direction Générale de l'Éducation, de la formation et de la jeunesse
DG XXIII Directorate General for enterprise / small companies
DG XXIV Directorate General for consumer affairs (Consumer Policy and Consumer Health Protection)
DGPT Direction Générale des Postes et Télécommunications (FR)
DIC Documentation and Information Centre
DRG Direction de la Réglementation Générale (FR, now DGPT)
DTI Department of Trade and Industry (UK)
EAEC European Atomic Energy Community (same as CEEA)
EBRD European Bank for Reconstruction and Development (same as BERD)
EBN European Business and innovation centres Network
EBS Europe By Satellite
EBU European Broadcasting Union
EC European Commission
EC European Community (same as CE)
ECA European Court of Auditors (same as CC)
ECHO European Community Humanitarian aid Office / Office d'aide humanitaire de la Communauré Européenne
ECHR European Commission on Human Rights
ECHR European Convention on Human Rights
ECHR European Court of Human Rights
ECIP European Communities Investment Partners / Partenaires de la communauté européenne en matière d'investissement (entreprises conjointes avec des opérateurs locaux de pays non-européens)
ECJ European Court of Justice
ECOFIN Conseil de ministres de l'économie et des finances
ECPE European Centre of Public Enterprises (same as CEEP)
ECSC European Coal and Steel Community (same as CECA)
ECTEL European Conference of Telecommunications and Electronics industries
ECTUA European Council of Telecommunications User's Associations
ECU European Count Unit (same as UCE)
EDF European Development Fund (same as FED)
EDIFACT Electronic Data Interchange for Administration, Commerce and Transport
EEA European Economic Area (same as EEE)
EEA European Environment Agency (same as AEE)
EEC European Economic Community (founded by the treaty of 1957, same as CEE, now EU)
EEE Espace Économique Européen (Id. EEA)
EEIG European Economic Interest Grouping (same as GEIE)
EEJ-NET European Extra Judicial Network
EFB European Federation of Biotechnology
EFTA European Free Trade Association (Same as AELE)
EI Environment Institute
EIB European Investment Bank (same as BEI)
EIC Enterprise and Innovation Centre (same as BIC, CEI)
EIC Euro Info Centre
ELOISE European Land-Ocean Interactions Studies
EMU Economic Monetary Union (same as UEM)
ENA European NAvigator est une base de données multimédia gratuite consacrée à l'histoire de la construction européenne de 1945 à nos jours, et développée par le Centre virtuel de la connaissance sur l'Europe (CVCE).
EOQC European Organisation for Quality Control
EOTC European Organization for Testing and Certification
EP European Parliament (same as PE)
ERC European Radio Committee
ERDF European Regional Development Fund (same as FEDER)
ERMES European Radio Message System
ERT European Round Table
ESA EFTA Surveillance Authority
ESA European Space Agency
ESA European System of Accounts (same as SEC)
ESC Economic and Social Committee
ESF European Social Fund (same as FSE)
ESI European Software Institute
ESPRIT European Strategic Programme for Research and Development in Information Technologies / Programme stratégique de recherche et de développement relatif aux technologies de l'information
ETAN European Technology Assesment Network
ETI Economic and Technical Intelligence
ETSI European Telecommunications Standards Institute
EU European Union (same as UE)
Summaries of legislation Summaries of EU legislation in all policy areas.
EU15 European Union of 15 Member States
EURATOM European Atomic Energy Community / Communauté européenne de l'énergie atomique
EUREKA European Research Coordination Agency / Agence européenne pour la coordination de la recherche
EURET European Research Programme for Transport
EURINFO European Information
EUR-OP Office for Official Publications of the European Communities
EUROSTAT Statistical Office of the European Communities / Office des statistiques de l'Union européennne
EWG Europäische WietschaftsGemeinschaft (same as CEE)
FAIR Food and Agro Industry Research
FDI Foreign Direct Investment (same as IDE)
FECOM Fonds Européen de Coopération Monétaire
FED Fonds Européen de Développement (Créé par le traité de Rome de 1957, iIdem EDF)
FEDER Fonds Européen de Développement Régional
FOREST Forestry Sectoral Research and Technology
FSAP Financial Services Action Plan
FSE Fonds Social Européen
FSPG Financial Services Policy Group
GEIE Groupement Européen d'Intérêt Économique
ICEM Intergovernmental Committee for European Migration
IDA Interchange of Data between Administrations / Programme d'échange de données entre administrations
IDE Investissements Directs Étrangers
IGC InterGovernmental Conference
IFC Instruments Financiers de la Communauté / Community financial instruments
IGC InterGovernmental Conference
IME Institut Monétaire Européen
IMPACT Information Market Policy Actions Programme
INC Instances Nationales de Coordination
INCO International Cooperation in RTD / Coopération Internationale en RDT
IRDAC Industrial Research and Development Advisory Committee
ISPA Instrument Structurel de Pré-Adhésion / Instrument for Structural Policies for Pre-Accession
IST Information Society Technologies / Technologies de la société de l'information
IT Information Technology
IT&T Information Technology and Telecommunication
JAI Justice et Affaires Intérieures
JCR Joint Research Centre (same as CCR)
JET Joint European Torus (projet de recherche sur la fusion thermonucléaire)
JOULE Joint Operation for Unconventional or Long-term Energy supply
JRC Joint Research Center
LAB Legal Advisort Board
LADRE Links between Actions for the Development of the Rural Economy (same as LEADER)
LANGUES - LENGUAGES - LENGUAS
L'UE compte 27 États membres et 23 langues officielles ; l'allemand, l'anglais, le bulgare, le danois, l'espagnol, l'estonien, le finnois, le français, le grec, le néerlandais, le hongrois, l'irlandais, l'italien, le letton, le lituanien, le maltais, le polonais, le portugais, le roumain, le slovaque, le slovène, le suédois et le tchèque.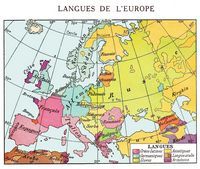 Les langues de l'Europe (330 Ko)
LB-LOCA Large Break - Loss Of Coolant Accident
LEADER Liaison Entre Actions de Développement de l'Economie Rurale
LFR Less Favoured Regions / Régions les moins favorisées
LIBER Ligue des Bibliothèques Européennes de Recherche / League of European Research Libraries
LIFE Financial Instrument for the Environment
LIFT Linking Innovation, Finance and Technology
MAST Marine Science and Technology
MEANS Méthodes d'Évaluation des Actions de Nature Structurelle / Evaluating Actions of a Structural Nature
Médiateur Européen European ombudsman
MISSOC Mutual Information System on Social protection in the EU MISSOC FR
MPE Membre du Parlement Européen
MS Member States
NEI Nouveaux Etats Indépendants (Azerbaïdjan, Arménie, Belarus, Géorgie, Kazakstan , Kyrghistan, Moldavie, Russie, Tajikistan, Turkmenistan, Ukraine, Uzbeksistan)
NET Next European Torus (projet de fusion nucléaire)
NFP National Focal Point (same as PFN)
NIS New Independent States (sama as NEI)
OCT Overseas Countries and Territories
OFTEL Office Of Telecommunications (UK)
Office des publications Europa
OHIM Office for Harmonization in the Internal Market (same as OHMI)
OHMI Office de l'Harmonisation dans le Marché Intérieur
OJ Official Journal (same as JO)
OJEC Official Journal of the European Communities (same as JOCE, nox OJEU)
OJEU Official Journal of the European Union (Same as JOUE)
OPOCE Office des Publications Officielles des Communautés Européennes / Office for Official Publication of the European Communities
OSCE Office Statistique des Communautés Européennes
OSCE Organisation pour la Sécurité et la Coopération en Europe
PCN Point de Contact National
PCRD Programme Cadre de Recherche et Développement
PE Parlement Européen (- Idem EP)
PE Parlamento Europeo
PE Prime Exploratoire (PCRD)
PECO Pays d'Europe Centrale et Orientale
PESC Politique Etrangère et de Sécurité Commune
PFN Point Focal National
POCSAG Post Office Code Standardization Advisory Group (UK)
QMV Qualified Majotity Voting
RACE Research and Development into Advanced Communication Technologies for Europe / Recherche et développement sur les technologies de pointe des télécommunications en Europe
RDT Recherche et Développement Technologique
REITOX Réseau Européen d'Information sur les Drogues et les Toxicomanies
RTD Research and Technological Development (same as RDT)
RTE Réseaux TransEuropéens
SEC Système Européen de Comptes économiques intégrés
SF Structural Fund
SIS Système d'Information Schengen
SLIM Simplification de la Législation relative au Marché Intérieur
SME Système Monétaire Européen, Serpent Monétaire Européen
SMN Single Market News (EU publication)
SOEC Statistical Office of the European Communities (same as OSCE)
TC Technologies de la Communication
TETRA Trans-European Trunked Radio
TUE Traité sur l'Union Européenne, traité de Maastricht, (le traité constitutif de l'Union européenne)
UCE Unité de Compte Européenne
UE Union Européenne / Unión Europea (- Idem EU)
Synthèses de la législation Résumés de la législation de l'UE dans tous les domaines thématiques.
UEBL Union Économique Belgique Luxembourg
UEM Union Économique et Monétaire (Europe)
UEO Union de l'Europe Occidentale
UNECE United Nations Economic Commission for Europe. Set up in 1947 by ECOSOC. It is one of five regional commissions of the United Nations. The others are the Economic and Social Commission for Asia and the Pacific (ESCAP), the Economic Commission for Latin America and the Caribbean (ECLAC), the Economic Commission for Africa (ECA) and the Economic and Social Commission for Western Asia (ESCWA).
UN-EDIFACT United Nations Directories for Electronic Data Interchange for Administration, Commerce and Transport
UPM Urban Pollution Management
VET Vocational Education and Training
WAMM Water Management Models
WES Women's EntrepreneurShip (network created in october 1998)
WITEC Women in Science, engineering and Technology (GB, Sheffield)